This post contains some affiliate links, which means Adventures of Blogging may receive a commission if you make a purchase using some of the links in this blog post. Please see my full Disclaimer on my blogs Home Page for a complete Disclaimer. Thanks again for Visiting with us. 
Step 1. 

Creating A BlueHost Account
Do you have your domain yet? If not, I got mine from GoDaddy 

. You can head over to GoDaddy by clicking down below

 
and apply for yours today. It does not take long at all, they just have to make sure the domain that you want is available. Make sure you decide on one that you are going to like for the lifetime of your blog, since you have to purchase it. I recommend buying a
.com

, It just looks more professional and means business.  
  ⇐Click here
Things to remember:
Keep it short-Social Media sites have a character limits, and so you and your viewers can remember it easier. Making it simple, is the best way to go.
One the reflects you–Decide on one that has to do with your blog content and personality.
Have one that is Professional-This is will represent your business, so think professional.
Check for name of a domain below to check it's availability. 
Step 2.
BlueHost
With Bluehost you will receive a free domain, but if you want to move to a different hosting platform you will have to purchase a new and different named domain.
Click banner here to join now, and you will be taken to their Website. 
Step 3. Get started Banner⇑
You will be taken to the BlueHost home screen where you will click "get started now" on their banner. You will then be taken to their landing page, where you will select the plan of your choice, see here.
It is recommended that you choose the lowest plan first, then you are able to upgrade at a later point. By doing this you can use the money you save to invest in your blog and then upgrade later into your business. 
Step 4. How to create your BlueHost Account
Enter the name of the domain in the "new domain box" if you have not gotten one yet. If you did purchase one, enter it in the "I have a domain name" box. Then click next at the bottom.
Step 5. Account Information
Enter the information here that it is requested. The email you enter is one that you will need to remember, so have access to it always, this should the same email attached to your blog. See example below.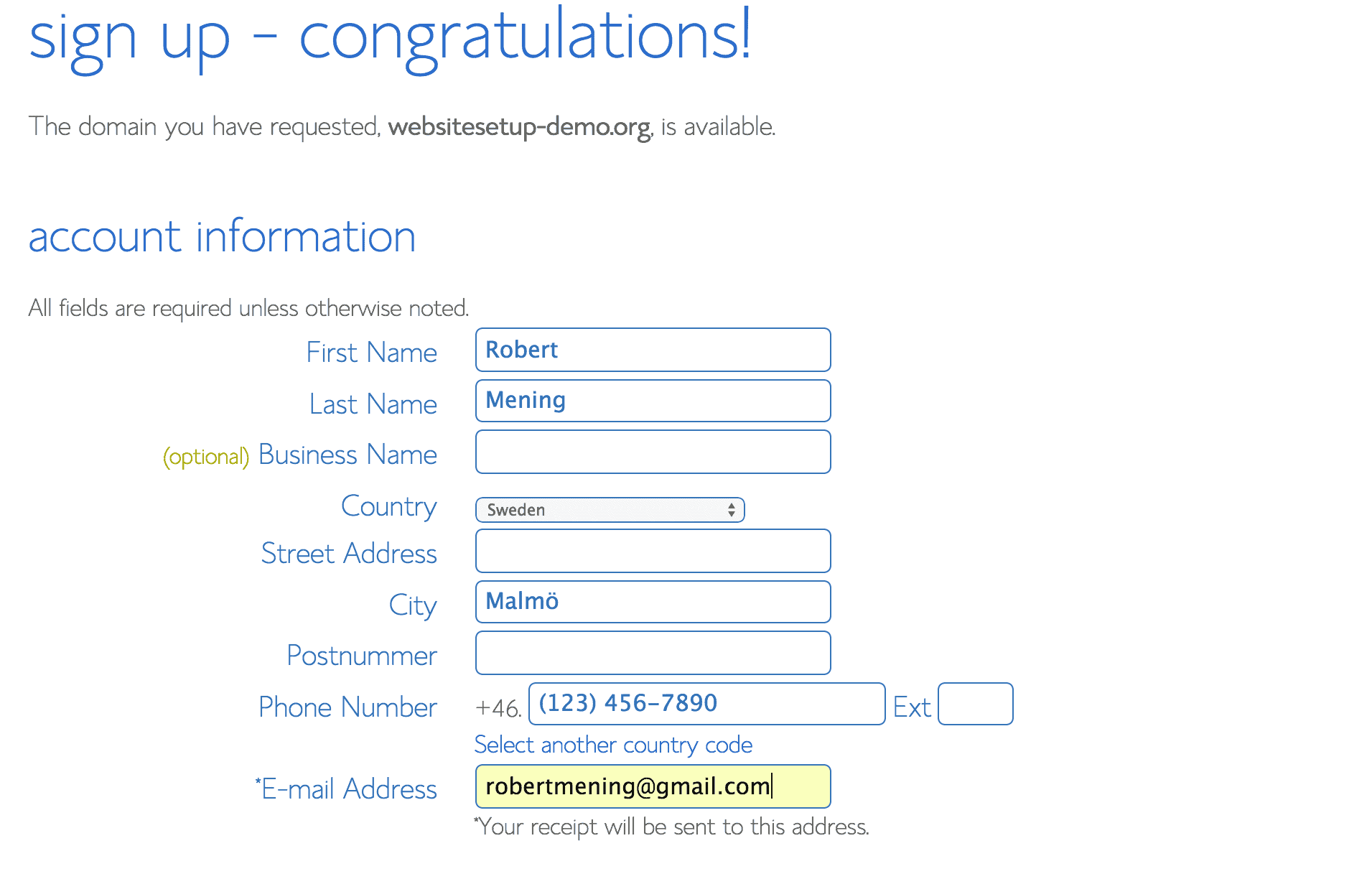 Step 6. Your Hosting Package and it's length of time desired
Once you have created your account you will scroll down and select your desired package. Start by deselecting all of the add-on features since there are wonderful WordPress plug-ins that serve the exact same purpose for free. Remember by getting the lowest plan first you will save your money for future investments-for example Stock Photo's on Canva, some are free while others charge a small fee. I have purchased some for $1.00 to $2.00 each. 
Step 7. Your Payment
Select your payment method and be on your way to creating your blog!
The wait time is only about 10 minutes for BlueHost to set your website up, once it is finished you will receive an email confirming this. When you receive your email you are all ready to install WordPress.org. You will need to login to Bluehost and your website will be set up for you. 
Step 8. Installing WordPress.org
Good Job!! You're almost there….Are you excited yet? Go ahead pat yourself on the back. 
Okay to start this section you are already logged-in correct? Once you are, it brings up this screen. 
Scroll down until you see this area that shows "Website" in the blue and click Install WordPress.
After that Click on the "Install WordPress" icon. 
Then enter your domains address and Click "Check Domain"
Next page should be this one below⇓
Click that "I have read the terms and conditions" button then "Install Now"
You did it!!  Give yourself a pat again!!!! 
I hope these instructions are clear for you to understand if not drop me a line and let me know if you need my help. It might be quicker to contact Bluehost yourself by clicking here BlueHost help. 
Thanks for dropping by,  Good Luck to you all